Sailing lessons are available each year for club members and their families as well as for non-members. Lessons are generally held at the start of the season, late May or early June.
Instruction is provided by U.S. Sailing Certified Instructors. Classes stress hands-on participation. This is an introductory course that will familiarize students with the basics of sailing. At the conclusion of the four sessions, students should know the basics of sailing theory, will be able to rig and de-rig one of the dinghies they've practiced with, and should be able to launch, sail and return to the beach in appropriate weather conditions. Classes are held at the Sailing Center located on the waterfront at Sunday Park, Brandermill. Click on the link below to get directions to Sunday Park.
During the first session students should wear a swim suit (or clothing they can get wet in) and be prepared for a swim test and capsize drill. All students should bring a U.S. Coast Guard approved "Type III" Personal Flotation Device (PFD) to all sessions. Classes provide hands on practice on the water.
2017 Session Dates
Session 1:

Wednesday June 21

5:30 pm – 8:00 pm

Saturday June 24


9:00 am – 3:00 pm

Sunday June 25


9:00 am – 3:00 pm
| | |
| --- | --- |
| | |
|  Lexi Noell |  Matteo |
For more information contact one of our instructors: officers@sailbrandermill.org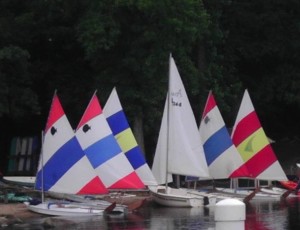 Click for Sailing lessons flyer: Lessons 2014 Flyer
Click for Sailing lessons registration form in Word format: Lessons-Registration-2017.doc
Click for Sailing lessons registration form in PDF format: Lessons-Registration-2017.pdf
A 1 year membership to the Brandermill Sailing Club is included in the price of lessons. Please download the form below and send the completed form to the address listed on the form.